As a comprehensive financial group, the MUFG Group provides a wide range of financial and business solutions, deploying its know-how and network to enhance corporate value.
As a member of the MUFG Group, MUCAP is deeply committed to supporting the growth of start-ups, devoting its utmost efforts to fostering their growth by harnessing the Group's collective strength as well as the expertise and know-how of IPO specialists with a wealth of knowledge in a vast range of fields.
Structure of Mitsubishi UFJ Capital Management Support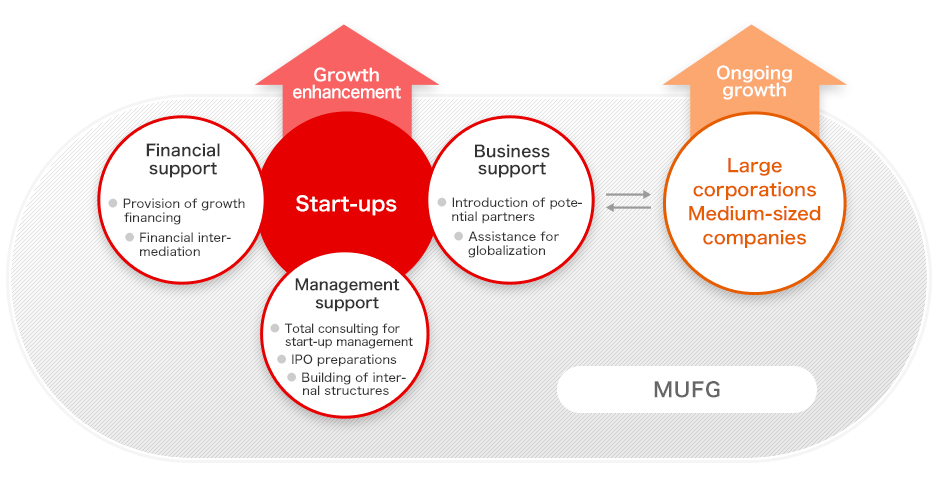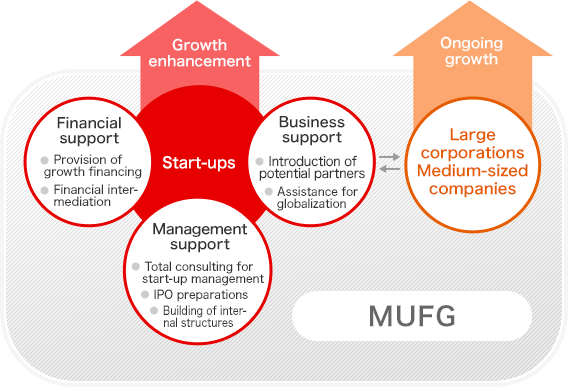 Financial Support
MUCAP supports start-ups' funding by providing investment and cash-flow advice and, in accordance with the growth stage and specific requirements of each start-up, introduces them to Group companies as well as venture capital firms and other financial entities.
Examples:
Provision by MUCAP of growth financing
Arrangement of financial solutions offered by MUFG Group companies (including account opening, lending, leasing, corporate credit cards)
Mediation to obtain funding from other venture capital firms, government-affiliated financial institutions (e.g., capital loans), grants, etc.
Business Support
The MUFG Group has the largest client base in the banking industry, with some 400,000 corporate customers. MUCAP acts as a bridge for linking start-ups and large companies, focusing on business matching between companies.
Examples:
Provision of opportunities for business matching with customers of MUFG Bank
Arranging participation in MUFG Bank's start-up assistance programs
Introductions to our influential partners in Taiwan and other potential local collaborators for expansion overseas
Management Support
MUCAP engages sincerely with start-ups experiencing management or operational issues, providing hands-on management assistance. In addition, we work hand in hand with experts in various IPO-related fields to provide start-ups with highly professional assistance toward successful completion of their IPOs.
Examples:
Introduction of IPO specialists (securities companies, trust banks, audit firms, securities printing companies, stock exchanges, etc.)
Advice relating to IPO preparations and the creation of internal control structure (including linkage with a partner IPO consulting company)
Assistance with personnel recruitment