MUCAP offers a wide range of growth funds to start-ups that possess exceptional technologies and added value and have growth potential.
< Principal features >
1.

Seamless and stable supply of funds from the main fund.

2.

Various types of support to nurture promising start-ups and key industries and to promote stock-exchange listing.

3.

Arrangement of business matching with customers of MUFG Bank, Ltd. and other MUFG affiliates.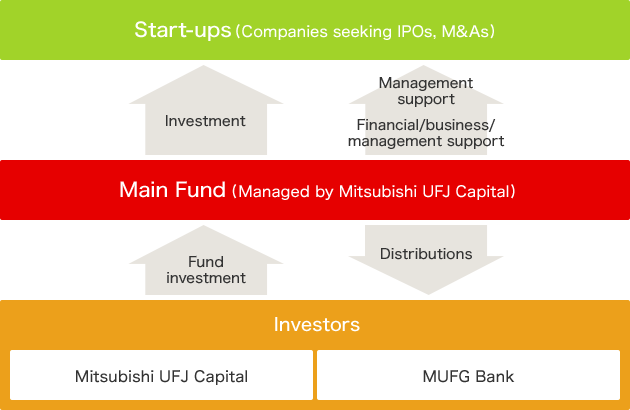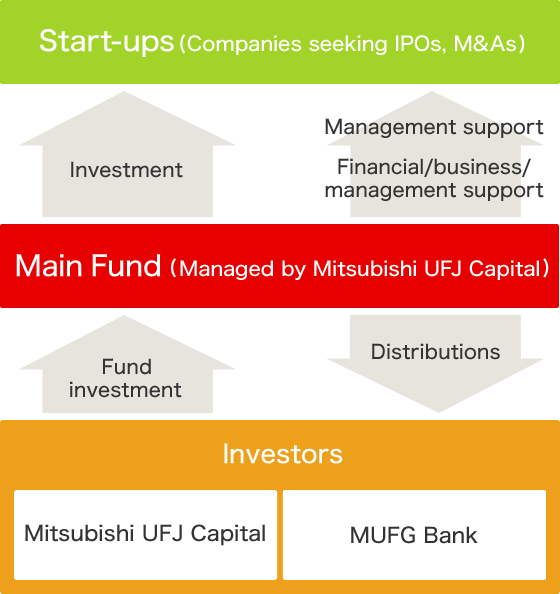 | | |
| --- | --- |
| Name | Mitsubishi UFJ Capital VIII, Limited Partnership |
| General partner | Mitsubishi UFJ Capital |
| Investors | MUFG Bank and Mitsubishi UFJ Capital |
| Total amount | 15 billion yen |
| Established | April 23 2021 |
| Fund term | 10 years |
| | |
| --- | --- |
| Name | Mitsubishi UFJ Capital VII, Limited Partnership |
| General partner | Mitsubishi UFJ Capital |
| Investors | MUFG Bank and Mitsubishi UFJ Capital |
| Total amount | 15 billion yen |
| Established | February 20 2019 |
| Fund term | 10 years |
| | |
| --- | --- |
| Name | Mitsubishi UFJ Capital VI, Limited Partnership |
| General partner | Mitsubishi UFJ Capital |
| Investors | MUFG Bank and Mitsubishi UFJ Capital |
| Total amount | 10 billion yen |
| Established | February 20 2017 |
| Fund term | 10 years |
| | |
| --- | --- |
| Name | Mitsubishi UFJ Capital V, Limited Partnership |
| General partner | Mitsubishi UFJ Capital |
| Investors | MUFG Bank and Mitsubishi UFJ Capital |
| Total amount | 10 billion yen |
| Established | June 18 2015 |
| Fund term | 10 years |
| | |
| --- | --- |
| Name | Mitsubishi UFJ Capital IV, Limited Partnership |
| General partner | Mitsubishi UFJ Capital |
| Investors | MUFG Bank and Mitsubishi UFJ Capital |
| Total amount | 10 billion yen |
| Established | July 1 2013 |
| Fund term | 10 years |
| | |
| --- | --- |
| Name | Mitsubishi UFJ Capital III, Limited Partnership |
| General partner | Mitsubishi UFJ Capital |
| Investors | MUFG Bank and Mitsubishi UFJ Capital |
| Total amount | 10 billion yen |
| Established | March 30 2010 |
| Fund term | 10 years |
| | |
| --- | --- |
| Name | Mitsubishi UFJ Capital II, Limited Partnership |
| General partner | Mitsubishi UFJ Capital |
| Investors | MUFG Bank and Mitsubishi UFJ Capital |
| Total amount | 13 billion yen |
| Established | June 6 2007 |
| Fund term | under liquidation |