The Golden Asia Fund, a vehicle established jointly with prominent Taiwanese partner institution the Industrial Technology Investment Corporation (ITIC)*, invests in and supports start-ups in a wide range of industrial fields and at various growth stages, acting as a bridge linking Japan and Taiwan.
ITIC is an investment company for, and a wholly owned subsidiary of, the Industrial Technology Research Institute (ITRI), the R&D and technological-support arm of Taiwan's Ministry of Economic Affairs.
< Principal features >
1.

The leverage of business cooperation between Japan and Taiwan assists start-ups seeking to increase their growth in the Asian region.

2.

The close cooperation between Japan and Taiwan by two top-tier Japanese and Taiwanese venture capital firms provides additional lateral support for investees launching operations in Asia and expanding their business.

3.

By taking full advantage of the networks that ITIC and ITRI have throughout Taiwan's industrial sector, Japanese and Taiwanese companies with a high degree of affinity with each other can be matched.

4.

The key benefits for Japanese firms of Japan-Taiwan collaboration include (1) reduced manufacturing costs, (2) the opening up of sales channels not only to Taiwan but also to China and ASEAN countries, and (3) potential joint R&D with the national research institution ITRI.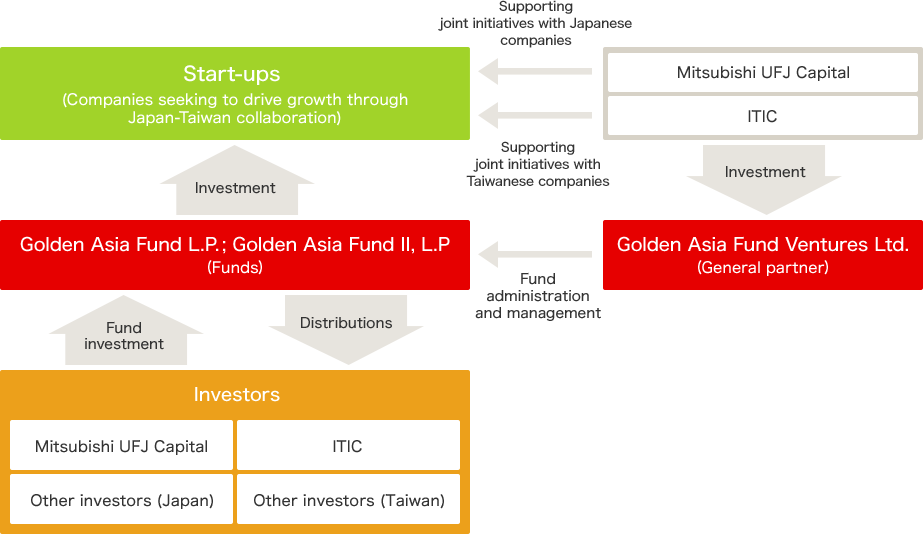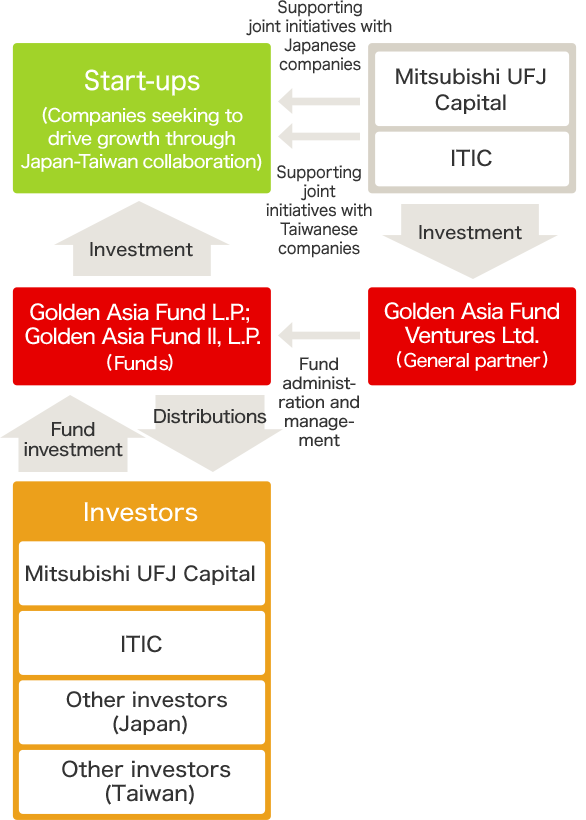 | | |
| --- | --- |
| Name | Golden Asia Fund II, L.P. |
| Objective | Through the skillful combination of Japanese start-ups' cutting-edge technological capabilities with Taiwanese companies' low-cost production capabilities and access to global sales centered on mainland China and the ASEAN region, Japanese companies targeting Taiwan and other Asian countries will be supported from both Japan and Taiwan. In addition, the fund will assist Taiwanese and other Asian private companies aiming to engage in business collaboration with Japanese companies. |
| Investment targets | Japanese, Taiwanese, and other Asian private start-ups wishing to engage in business collaboration between Japan and Taiwan. |
| General partner | Golden Asia Fund Ventures Ltd. (jointly owned by ITIC and Mitsubishi UFJ Capital) |
| Investors | ITIC, Mitsubishi UFJ Capital |
| Total amount | US$50 million |
| Established | November 30 2015 |
| Fund term | 10 years (extendable for up to two years; investment period of six years) |
| | |
| --- | --- |
| Name | Golden Asia Fund L.P. |
| Objective | Through the combination of Japanese companies' technological capabilities with Taiwanese companies' low-cost production capabilities and access to global sales centered on mainland China, support is given to start-ups seeking to expand from Taiwan into other parts of Asia. |
| Investment targets | Japanese private start-ups aiming to form capital, business, and other alliances with Taiwanese companies. |
| General partner | Golden Asia Fund Ventures Ltd. (jointly owned by ITIC and Mitsubishi UFJ Capital) |
| Investors | ITIC, Mitsubishi UFJ Capital |
| Total amount | US$6 million |
| Established | December 20 2011 |
| Fund term | 7 years (extendable for up to two years; completion of new investment) |
Golden Asia Fund Ventures Ltd.(PDF:539.7 KB)
Business Reports for the 10th Team (2020)(PDF:620.5 KB)